TEMPLE UNIVERSITY CONCERT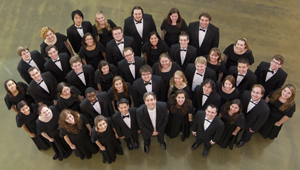 CHOIR
Tour of New England and New York, May 17-21, 2014
The Temple University Concert Choir will embark on a tour of New England and New York from May 17-21. The choir will perform a program of exquisite works, including Howells' Requiem and a piece byLatvian composer Ēriks Ešenvalds, commissioned by the Temple University Concert Choir.
Praised for its versatility, the choir of graduate and undergraduate students enjoys a regional and national reputation of excellence, frequently touring abroad in places such as Puerto Rico, China and Venezuela as the choral ambassadors of Temple University.

Concert Details
All concerts are free and open to the public.

Saturday, May 17, 7:30 pm
South Congregational Church
27 Pleasant St.
Concord, NH 03301

Monday, May 19, 7:30 pm
Saint Peter's Episcopal Church
15 Sellers St.
Cambridge, MA 02139

Complementary wine reception to follow.

Tuesday, May 20, 7:30 pm
Unitarian Church of All Souls
1157 Lexington Ave.
New York, New York 10075

Complementary wine reception to follow.